[Pencil drawing of Velázquez's painting "Portrait of a girl"]
[graphic].
Main Creator:
Osborne, Walter F., (Walter Frederick), 1859-1903 artist.
Contributors:
Summary:
Bust of a girl, full face, turned to left.

Format:

PRINTS & DRAWINGS

Language:
English
Published / Created:
[London] : [ca. 1901].

Subjects:

Women > Spain > 1620-1660.

Notes:

Catalogue in which this drawing was found was presented by Walter Osborne's mother. It is not known to whom she presented it.




Inscribed in pencil u.r.: [Olive?] background / black brown [hair?].




Physical description: 1 drawing : pencil ; 17.7 x 10.7 cm..




Citations/References: Descriptive and biographical catalogue of the exhibition of the works of Spanish painters / by A. G. Temple, London, 1901, between p. 124 and 125 (summary of this painting on p. 124).



Credits:
Attributed to Walter F. Osborne, (1859-1903), after an original painting by Diego Velázquez, (1599-1660).

Online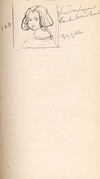 Call Number
View in
Collection
PD 4007 TX 15
Collection unavailable
Special Access
Prints & Drawings
Reproduction rights owned by National Library of Ireland.