[Pencil drawing of Velázquez's painting "Prince Baltasar Carlos as Hunter"]
[graphic].
Main Creator:
Osborne, Walter F., (Walter Frederick), 1859-1903 artist.
Contributors:
Summary:
The Prince Baltasar Carlos, Prince of Asturias, heir to the Spanish throne, (1629-1646), full length, standing, boy of seven years of age, wearing black plumed hat, black dress embroidered with gold, lace collar, black shoes and gauntlets, full face. He holds a gun in his right hand. A large dog lies on his left hand side and two greyhounds are on his right. Hilly landscape in background.

Format:

PRINTS & DRAWINGS

Language:
English
Published / Created:
[London] : [ca. 1901].

Subjects:

Dogs > Spain > 1630-1640.
Princes > Spain > 1630-1640.

Notes:

Inscribed in pencil l.c.: brown & grey.




The catalogue in which this drawing was found was presented by Walter Osborne's mother. It is not known to whom she presented this catalogue.




This painting hangs in the Museo del Prado, Madrid, Spain.




Physical description: 1 drawing : pencil ; 17.7 x 10.7 cm..




Citations/References: Descriptive and biographical catalogue of the exhibition of the works of Spanish painters / by A. G. Temple, London, 1901, between p. 114 and 115 (summary of this painting on p. 114).



Credits:
Attributed to Walter F. Osborne, (1859-1903), after an original painting by Diego Velázquez, (1599-1660).

Online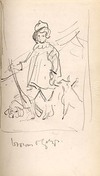 Call Number
View in
Collection
PD 4007 TX 13
Collection unavailable
Special Access
Prints & Drawings
Reproduction rights owned by National Library of Ireland.