[Pencil drawing of Goya's painting of his brother]
[graphic].
Main Creator:
Osborne, Walter F., (Walter Frederick), 1859-1903 artist.
Contributors:
Summary:
Man ; half-length, full face, turned to right. According to the catalogue in which this drawing is found, the title of this painting is "Portrait of the Painter's Brother". This is probably a painting of Goya's brother Javier entitled "Javier Goya L'homme en gris", which was painted in 1805/1806.

Format:

PRINTS & DRAWINGS

Language:
English
Published / Created:
[London] : [ca. 1901].

Subjects:
Notes:

Catalogue in which this drawing is found was presented by Walter Osborne's mother. It is not known to whom this catalogue was presented.




Inscribed in pencil l.r.: Grey Green [...] / plum coloured coat.




Physical description: 1 drawing : pencil ; 20 x 10.5 cm..




Citations/References: Descriptive and biographical catalogue of the exhibition of the works of Spanish painters / by A. G. Temple, London, 1901, p. 56.



Credits:
Attributed to Walter F. Osborne, (1859-1903), after an original painting by Francisco Goya, (1746-1828).

Online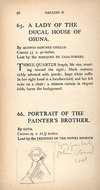 Call Number
View in
Collection
PD 4007 TX 10
Collection unavailable
Special Access
Prints & Drawings
Reproduction rights owned by National Library of Ireland.