Joseph Chamberlain, M.P., Ulster's British Standard Bearer.
Lex.
[graphic] /
Contributors:
Summary:
Joseph Chamberlain, M.P., (1836-1914), British politician and reformer, full length portrait, standing, left hand on hip, wearing old fashioned uniform and holding Union Jack in his right hand with words "No Surrender" written on it. On the door behind him is the text "Integrity of the British Empire". On ehe wall beside him is the text "Bulwarks of the Naion's Greatness".

Format:

PRINTS & DRAWINGS

Language:
English
Published / Created:
[Dublin] ; [London] : [Thomas Arden?], 22nd October, 1887.

Subjects:

Notes:

Supplement Gratis with The Union. Saturday, October 22nd, 1887.




Text printed l.c.: The Union. "A Union of hearts and a union of hands, / A union none can sever; / A union of homes and a union of lands, / And the flag of our Union for ever.".




Physical description: 1 print : lithograph ; 43.6 x 28.6 cm..




Reproduction Note: Neg. No.: 22675.



Credits:
Attributed to "Lex" aka Richard Thomas Moynan, (1856-1906).

Online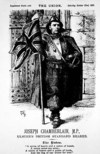 Call Number
View in
Collection
PD The Union 1887 October 22 (A)
Collection unavailable
Special Access
Prints & Drawings
Reproduction rights owned by National Library of Ireland.