Carey Collins - Go down on your b------ knees without any more d-----d fuss swear allegiance to King George and his heirs. : Faker Fitzgerald - Don't listen to Devalera [Eamon De Valera]. I could tell you a lot about great great grandmother and Spanish gold. : The Bishop - Take any other oath that will get you out of your difficulties. : Comic Cosgrave - It was an awful joke talking about freedom, you know.
[graphic].
Main Creator:
Markievicz, Constance de, 1868-1927
Contributors:
Summary:
Figure of Hibernia with arms behind her back and chained; Michael Collins holds a gun to her head. Behind Michael Collins is a bishop and William T. Cosgrave. In front of Hibernia and carrying a piece of paper with the words "Propaganda D.F.", is Desmond FitzGerald.

Format:

PRINTS & DRAWINGS

Language:
English
Published / Created:
[S.l.] : [s.n.], [ca. 1922].

Subjects:

Notes:

Title printed l.c..




Physical description: 1 mimeograph print : 32.4 x 20 cm..



Credits:
Attributed to Constance de Markievicz, (1868-1927).

Online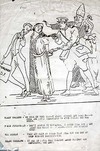 Call Number
View in
Collection
PD 3064 TX (B)
Collection unavailable
Special Access
Prints & Drawings
Reproduction rights owned by National Library of Ireland.