[Illustration torn out of "The Gentleman's Magazine", January 1792, Plate III with pages 17-23]
[graphic].
Summary:
Fig. 1 is a supposed minature of the poet Milton; Fig. 2 shows a portrait of Richard Blondus, S.J.; Fig. 3 shows a chain and medal of 1687 given by James II to Admiral Strong, Admiral of the Irish Seas; Fig. 4 is the Seal of Lewote Baa found at Gillingham, England; Fig 5 shows the Coats of arms found with an inscription on the foundation stone of Begbury house, Kent, England; Fig. 6 is a silver heart inscribed CR (presumably Carolus Rex) January 30th, 1648; Figs. 7-10 shows "St. Cuthbert's beads" which are pebbles that were washed up on Holy Island (Lindisfarne) and Fig. 11 shows a tradesman's token from Lynn Regis.

Format:

PRINTS & DRAWINGS

Language:
English
Published / Created:
January 1792.

Subjects:

Jewelry > England > 1790-1800.
Medals > England > 1790-1800.
Seals > England > 1790-1800.

Notes:

It is presumed that because of the Irish Seas connection of the medal given to Admiral Strong by King James II, the engraving was taken from the "Gentleman's Magazine."




Physical description: 1 print : engraving ; image 19 x 10.5 cm., within plate mark 20.5 x 12.2 cm., on sheet 22.2 x 14.1 cm.



Online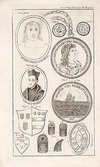 Call Number
View in
Collection
Coo 2122 TX (30)
Collection unavailable
Special Access
Prints & Drawings
Reproduction rights owned by National Library of Ireland.