Dover ; Memorandum of Books
[graphic].
Summary:
Drawing of Dover Castle, England, in the distance with a huge boulder in the foreground u.l. ; Plan and elevation of an unidentified Elizabethan-style castle l.l. ; Memorandum of Books with the inscription in ink "Book 1779 C } page 51 Mem.m of mss at college relative to Antiquities" u.r.

Format:

PRINTS & DRAWINGS

Language:
English
Published / Created:
1779.

Subjects:

Notes:

Drawing damaged and torn at bottom but Japanese paper added to conserve the item.




Titles inscribed in ink u.l. and u.r. on image.




Watermark is Britannia seated within a crowned medallion, holding a sceptre in one hand and what looks like a branch in the other.




Physical description: 1 drawing : pen & wash ; image 32.2 x 40.4 cm., on Japanese paper 39.2 x 46 cm.



Credits:
Attributed to someone associated with the circle of the Hibernian Antiquarian Society, founded in 1779, because the inscription u.r. "Book 1779 C" corresponds very closely to the "Book 1779 D" of Ms. 3.D.4(8) in the Royal Irish Academy.

Online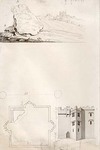 Call Number
View in
Collection
Coo 2122 TX (16)
Collection unavailable
Special Access
Prints & Drawings
Reproduction rights owned by National Library of Ireland.