Memoir of Gabriel Beranger
And His Labours in the Cause of Irish Art and Antiquities, from 1760-1780 /
Sir William Wilde, M.D. ; [concluding portion by Lady Wilde].
[picture] :
Main Creator:
Wilde, W. R. (William Robert), 1815-1876.
Contributors:
Summary:
Details of the work of Gabriel Beranger.

Format:

PRINTS & DRAWINGS

Language:
English
Published / Created:
50 Upper Sackville Street, Dublin : M.H. Gill & Son, 1880.

Subjects:
Notes:

Inscribed in ink on page viii: This included the entire valuable and extensive Library of the Right Honb.le William Burton Conyngham, of Slane, from whom the late Austin cooper F.S.A. purchased in the year 1810, and which after his decease in 1830 was disposed of by his son who, unlike his father was devoid of all literary taste. A.C.D.




This volume, according to an inscription was "Purchased at the Sale of Lord James Butler's Library 16th March, 1894", presumably by Austin Damer Cooper (1831-1900), grandson of Austin Cooper (1759-1830).




Purchased at an auction by Austin Damer Cooper in 1894, and since kept with the collection of antiquary drawings in the Prints & Drawings Department of the National Library of Ireland. It helps to shed considerable light, particulary as some of the manuscript sources quoted in it have since been lost.




Physical description: vii, 176 p. : ill. ; 24 cm.



Online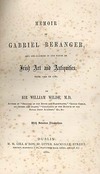 Call Number
View in
Collection
92 BE r 1
Main Reading Room
General
Coo 2122 TX (5)
Collection unavailable
Special Access
Prints & Drawings
Reproduction rights owned by National Library of Ireland