A Paymaster in his Morning Dress ; Mac D[onnell?] 7th Fusilier
[graphic]
Summary:
According to Patricia Butler, August 1997, this caricature (on stylistic grounds, subject matter and technique) is probably the work of members of the Brocas family, the most likely being Willaim Brocas, RHA (ca. 1794-1868)

Full length, left profile, right hand on neck and left hand holding the side of his trousers. Piece of paper in his left pocket with the letters "PAYMA" on it

Format:

PRINTS & DRAWINGS

Language:
English
Published / Created:
[Dublin] Pub. by McCleary Nassau St. [ca. 1819]

Subjects:

Etchings > Irish > Hand-coloured > 1810-1820

Notes:

First part of title etched l.c. with second part of title inscribed in ink l.r.




Physical description: 1 etching hand col. 28.9 x 13 cm.



Online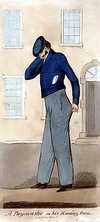 Call Number
View in
Collection
3041 TX 11
Collection unavailable
Special Access
Prints & Drawings
Reproduction rights owned by National Library of Ireland