Sir Stewart Bruce
[graphic]
Summary:
According to Patricia Butler, August 1997, this caricature (on stylistic grounds, subject matter and technique) is probably the work of members of the Brocas family, the most likely being Willaim Brocas, RHA (ca. 1794-1868)

Full length, left profile, standing with left hand on sword

Format:

PRINTS & DRAWINGS

Language:
English
Published / Created:
[between ca. 1814 and 1868]

Subjects:

Etchings > Irish > Hand-coloured > 1810-1870

Notes:

A print in the Nicholas Robinson Collection in Trinity College Dublin, entitled "Major Spruce", is inscribed in comtemporary hand "Major Bruce Gentn. Usher to the Lord Lieutenant of Ireland 1811"




Title inscribed in ink l.l.




Physical description: 1 etching hand col. 22.3 x 12.4 cm.



Online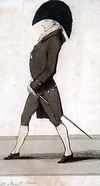 Call Number
View in
Collection
3041 TX 6
Collection unavailable
Special Access
Prints & Drawings
Reproduction rights owned by National Library of Ireland