Beau Stratagem - The Rt. Hon:The Earl of Barrymore & Captain Wathem, as Scrub and Archer
De Wilde ; H. Brocas
[graphic]
Main Creator:
Brocas, Henry, 1762-1837, engraver
Summary:
Scene from Act III, Scene III from 'The Beaux' Stratagem' a comedy by George Farquar. Scrub and Archer sitting on chairs.

Format:

PRINTS & DRAWINGS

Language:
English
Published / Created:
[1795]

Subjects:
Notes:

Engraved text: Painted with permission from life by De Wilde




Plate in: Jones's British theatre. Vol. VII. Dublin : William Jones, 1795 (John Chambers [printer])




Physical description: 1 print mixed techniques 15 x 8.6 cm.



Online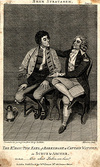 Call Number
View in
Collection
2034 (TX) 49
Collection unavailable
Special Access
Prints & Drawings
Reproduction rights owned by National Library of Ireland